Starting Out Stories – Kira Gagarin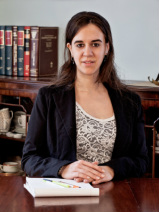 I graduated Law School in 2009 and the prospect for jobs out there was bleak, to say the least. I decided that my best option was to wait it out a year, get a Masters degree (hey, can never have too many letters next to your name, right? Or at least that's what my parents always say…) and I was certain that by the time I was done with that the job market would be better and all my friends from school would have jobs and would be able to get my resume on some desks.
So off I went to Madrid for a year to study International Law and intern at Ernst and Young. If I was going to get another year before the real world, I may as well take advantage, right? Fast forward to a year later and all my friends were still jobless and the prospects of getting ANY job, let alone a job where I could actually put my skills to work, were depressing. I did some document review. I may have even shed a tear being rejected for a job after the third interview. I did some more document review. I filled my refrigerator with "thanks, but no thanks" letters from jobs I had applied to as far as 6 months back and had forgotten about. I did some mooooore document review.
Then a friend suggested something crazy. Why don't we open our own law office?? We sat down, did some math (as much math as a lawyer can do), and the idea started getting less crazy and more exciting and feasible. Document review (and living with my parents, shhh!) had certainly allowed me to save up a good chunk of funds. Why not take the plunge? Ok, there are a few reasons why not… But, my family had immigrated to the US from Russia in 1989 and made their own path so why was I so scared to make my own when no opportunities were coming my way.
After much thinking and much more dreaming, the idea slowly became a reality. My friend, whose "crazy" idea initiated the brainstorming, ended up not being able to follow through because of a 90 thousand dollar public service grant she would have to repay if she went into private practice. Nonetheless, I took off running (maybe zig-zag style at first) and have never looked back. I even moved out of my parents' house! Now, I am grateful for the lagging economy and the opportunity to create my own opportunity and build and grow something I am proud of.
I treat my clients the way I think people should be treated. I have been confused (to say the least!) and reached out for help and am so thankful for the generosity of seasoned practitioners. I go to court as the lead attorney on my cases. I have argued a case before the Massachusetts Supreme Judicial Court (and won!). I can take an afternoon off to go for a walk with my mother. And, if I am at work all day on a Saturday I know it is for my own business, not so that someone else can take credit for my work. I still have days where I think it's a crazy idea, but crazy doesn't always have to be bad, right?
*Kira Gagarin, Esq. is an immigration attorney practicing in Framingham.  She is fluent in Russian and Spanish and is conversational in Portuguese.*
Back To Home